LIFE SAVING FEATURES.

AND A LIFETIME WARRANTY.
Keeping little feet on solid ground—that's always been our goal. And Life Saver's ultra-tough, ultra-durable removable pool fence will afford you great comfort in knowing that your children will remain happy and safe in your home.
Life Saver Pool Fence is built in the United States to exceed the highest construction standards, and in addition to getting the highest level of safety of any pool fencing on the market, our fences are easily removable by an adult.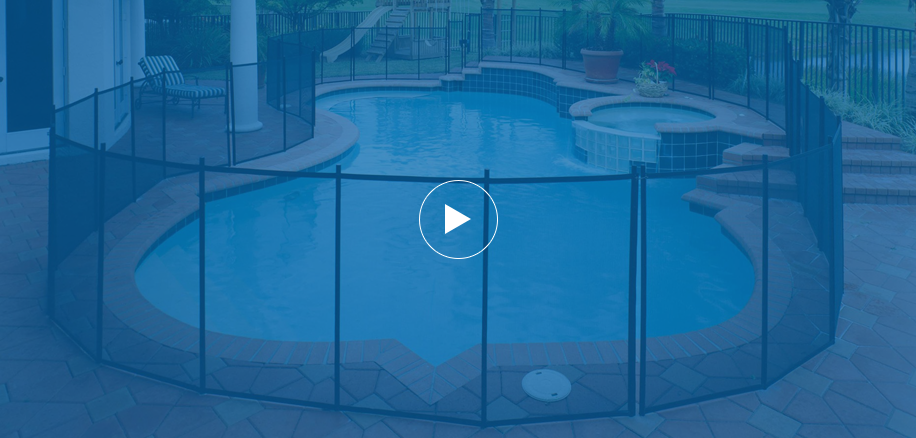 UNIQUE FEATURES.

QUALITY CONSTRUCTION.
While a local distributor can walk you through the variety of color and configuration options, every Life Saver Pool Fence features our superior construction materials and patented safety systems.
Textilene® mesh provides years of use in all weather conditions with a strength rating of 387 lbs per square inch.
QuadStitch bordering, created with strongest marine thread, reinforces essential sections of the fence.
Triple-Reinforced Solid Poles exceed all local safety requirements
Self-Closing, Self-Latching gate options provide added security
Tension-based supports provide superior stability
Round-head fasteners and rounded edges mean there are no sharp edges
UV Resistant components provide protection from sun damage
REMOVABLE

POOL SAFETY FENCE
Removable pool safety fence has proven, over the past thirty years, to be the most practical and effective barrier against pool drowning short of putting up a permanent rail fence.
The concept is simple. Isolate the pool from your home and eliminate all access to the water by a toddler. For the pool to be truly isolated and the barriers serve effectively, there must not be a reason to enter the swimming pool area other than to use or service the pool itself. That means not having to open the pool fencing to go out a screen enclosure door or into your backyard. These areas should be accessible to you without opening the safety fence. The more times a fence is opened, for a reason other than to use the pool, the greater the possibility that it will be left open for whatever reason.
Life Saver's removable pool fence is constructed of see through, polyester mesh mounted on aluminum support poles. The portable pool fence is placed into aluminum or plastic sleeves installed into your deck surface. The bottom border of the fence material should be flush to your deck so as to prevent a child from pushing under. The basic principal that keeps the temporary pool fence in place is bilateral tension and the fence should be checked periodically to ensure that you have the benefit of its full function.
A standard fence is removable in approximately fifteen-foot sections. Each section can easily be rolled up and weighs only sixteen pounds. The average one-hundred-foot fence can be removed in less than fifteen minutes and be put back up in approximately the same amount of time. Most fences, however, are never taken down until children in the home are old enough not to require this safe guard any longer.
Having a party with young children present?
Think twice about removing the fence. Family gatherings and social affairs contribute to distraction and drowning accidents involving young children. So that the removable child barrier to the pool does not have to be removed for day to day use of the pool, a "gate" section is provided at the steps or another convenient location. A pool "gate" is formed by two connecting sections that can be opened by an adult. Extra sleeves are placed into the deck at this point to act as pole holders when the "gate" is open.
Why install self-closing, self-locking gates?
Self-closing, self-latching gates are automatic and provide better protection if there are folks in the house that can't remember to close a gate behind them. Because it does not have to be physically closed or locked by the user it is a more practical option when there are older children in the home who have unsupervised access to the swimming pool. A self-closing gate and its lock are mechanical devices located outside and subject to corrosion, wear from use, misalignment, and mechanical failure. Extra care must be taken to ensure that the gate is functioning properly. Be sure that your gate is always installed to swing out or away from the pool or water.
How high should your pool safety fence be?
Pool fences ranges from 3 1/2 feet to 5 feet high. For an average toddler we recommend you look at the 4-foot height. A child capable of climbing a 4-foot-high fence will most likely also be able to go over 5 feet. It's just a longer fall down the other side. A child with this kind of capability should already be well into a swimming program.
We talk to parents moving into a home with a pool for the first time who are nervous about a six-year-old around the pool accidentally falling in. Since a six-year-old can go over any height fence and the fence is being installed to basically keep them from just falling into the pool by accident, we would recommend a shorter height like 3 1/2 feet as long as this is the only child in the household.
How far apart should the fence support poles be?
Support poles provide both tension and strength for the temporary pool fencing, so the less distance apart the better. We normally recommend 36 inches as a standard.
What mesh material is best?
The majority of removable mesh pool fence manufacturers today use polyester mesh with vinyl coating. It is a continuous basket weave construction and is the strongest method today for manufacturing pool safety fences. The smooth vinyl coatings are mildew resistant and allow easy cleaning of the finished product, unlike the grainy finishes of older style dipped interlocking nylon products that had a tendency to trap both growths and dirt. The newer polyester meshes are also much more resistant to punctures and are virtually impossible for even an adult to rip.
Should the mesh be bordered?
To be a finished product, your pool fence mesh should also be bordered on all four sides with vinyl border. Not only does this provide a finished look to your fence but also prevents unraveling of the mesh itself. Check the border material to ensure that it has visible reinforcing built into the vinyl to provide additional strength to the fence and eliminate sagging over time.
Remember, the temporary fence for your pool should block off all access from the home to the pool. Half way measures here are like playing "Russian Roulette". The only time the fence should be opened is when you are using the pool. Children learn quickly to operate door locks and open doors that have not been locked. The removable mesh fence around your pool should be your last layer of protection.
Do not forget your "fail safe" minimum of six layers of protection against drowning. Adult supervision, locked doors, perimeter door alarms, the best removable pool fence, pool alarms, and swimming lessons; all six must fail before your child can drown in your pool.
How much does a removable pool fence cost?
Removable pool fence cost is based on multiple factors which include the fence's height, color, brand, installation details and even local markets. In general, though, removable mesh pool fences cost between $15-$20 per linear foot. For example, if you needed 100ft of pool fence, you could expect to pay somewhere between $1500 – $2,000 based on these estimates. Contact us today for a more accurate pool fence pricing.
Fill out the form below and a Life Saver Pool Fence Specialist will contact you right away.
Get more information and see a Life Saver Pool Fence around YOUR pool.
Fill out the form below to get more information and have a pool fence specialist contact you right away. You will also receive a Google Earth image showing what a pool fence may look like around your actual pool.