Easy to use. Convenient and Safe. Attractive
Life Saver's self-closing, self-latching pool gate utilizes a square frame that can support itself with or without the pool fence. It is
totally removable
or it can be permanently anchored. The gate is constructed of 1¼" aluminum square stock with a strong 1/8" wall. The welded finished product is powder coated in black, white, green, or tan with your choice of black, white, or green Textilene™ mesh – the strongest available. Mix and match color combinations on the frame, mesh, and border to suit your personal taste while still maintaining the highest level of safety.
Self-Closing, Self-Latching Gate with Optional Radius Top
We are now offering an aesthetic upgrade EXCLUSIVE to Life Saver Pool Fence: the Arch Top Safety Gate. This gate has a unique radiused top, making it beautiful and elegant. The welds are unbreakable and have full square aluminum tube components. You're going to love how the added convenience, the improved security, and the look of this gate offered only by Life Saver enhances your pool safety fence.
Strongest 1-1/4″ heavy gauge aluminum
Attractive arch with full molding support
Most reliable full double truss system
Easy Removal using adjustable locking plate
More options with left or right side entries
Proven and tested pool gate safety latch and closing system
Key lockable Latching System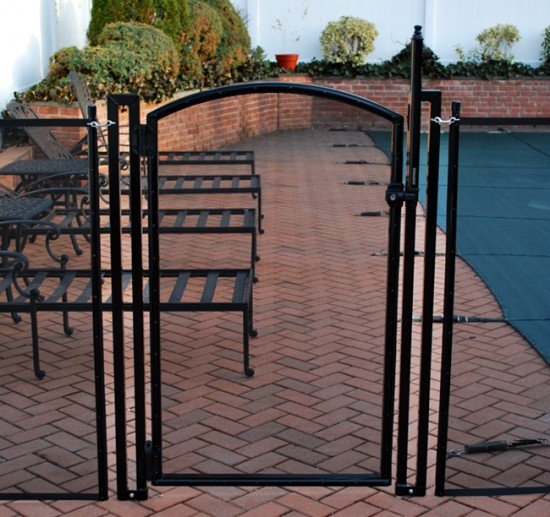 Optional Safety Turtle® Wireless Gate Alarm
Parents looking for the highest level of safety can now choose to have the Safety Turtle® Wireless Gate Alarm installed on their self-closing, self-latching pool safety gate. With the introduction of its weatherproof wireless gate monitor, Safety Turtle® now offers two layers of protection in private and communal residences. The Base Station, normally located in the house, alarms when a Turtle wearer falls in the water. Alarming is also triggered by the opening of an armed exterior gate – immediately if the adult pass switch is not activated, or within 11 seconds if the gate is not closed again.
Features include:
alarm sounds in house not at gate!
adult bypass switch on gate sensor
no limit on number of gate alarm and Turtle wristband sensors per Base Station
300 ft. [90 meter] range
Gate sensor battery lasts 30,000 entries
GA-ML-101 model adapted to Magna-Latch fastening hardware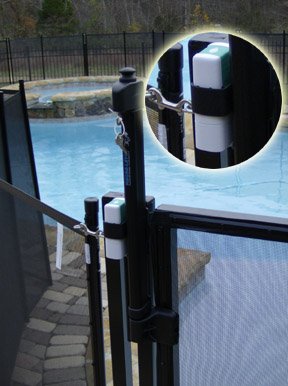 Ultra-Reliable Latching System
The Life Saver self-closing pool gate uses only the most proven latch and hinge system. The Magna-Latch has been tested to more than 400,000 cycles. MAGNA-LATCH gate latches are magnetically triggered safety devices that have revolutionized the safety, reliability and child-resistance of swimming pool, childcare and household gates. The unique operating principle is brilliantly simple. As the gate swings shut, a powerful 'permanent' magnet draws a latch bolt from one housing into the other, latching it securely. No amount of shaking, pushing or pulling can disengage the latch. The concept is so advanced it boasts international awards for design excellence. The latch has been designed to meet strict international safety codes, including all codes relating to swimming pool safety gates. The dangerous problem of a gate "resting on the latching mechanism", appearing to be latched, is eliminated when using MAGNA-LATCH. The quiet and reliable latching action means MAGNA-LATCH incurs no mechanical resistance to closure, and so suffers none of the sticking, jamming and sagging problems associated with 'mechanical' gate latches.
Quality TRU-CLOSE gate hinges are the latest technology in adjustable, self-closing gate hinges for swimming pools, households and other safety gate applications. These strong, revolutionary hinges are injection-molded from a special blend of glass-fiber reinforced polymers, which means they never rust, bind, wear, sag or stain. The superior strength and rust-free performance of TRU-CLOSE means the hinges offer double the life expectancy of any comparable product. The internal torsion spring is made of high-grade stainless steel to ensure smooth, powerful closure and long life, even in the harshest seaside or arid environments. The patented, spring-loaded adjustor within most TRU-CLOSE hinges allows instant, incremental tension adjustment using only a screwdriver. Quick and easy! This clever adjustment feature overcomes the typical spring fatigue problems associated with fixed-tension gate hinges. TRU-CLOSE hinges have been independently tested to comply with a range of international safety standards, especially those relating to
pool fences
and child safety gates. The hinges are designed to outperform all comparable removable pool gate closing devices. They are the only safety hinges offering a lifetime warranty against rust or corrosion. Interested in a self closing pool gate? Contact Life Saver Pool Fence today for a FREE estimate. Call
937-846-0800
or
contact us online today.