There's nothing like a swimming pool to turn a basic backyard into the ultimate staycation destination.
Of course, if you want to keep your swimming pool beautiful, clean, and healthy, you must know how to take good care of it.
Wondering how to clean your swimming pool? No worries. Read on these basic tips shared by Life Saver Pool Fence specialists for proper cleaning of your swimming pool:
#1. Gather pool cleaning equipment
Before you get started with cleaning your pool, ensure you've all the cleaning equipment on hand. If you're a new pool owner, you might not be sure what pool cleaning equipment you need. Here is a list of pool cleaning equipment you might need:
Telescopic pole – Most pool cleaning supplies attach to this telescopic pole. We recommend you to buy an 8-foot pole that extends to 16 feet.
Skimmer net ­– Attach this net to a telescopic pole and use it to collect debris that gets accumulated on and below the water's surface. Leaves, bugs, twigs, hair ties—all of them can be scooped up in a skimmer net.
Pool brush – Attach it with your telescopic pole and use it to scrub your pool's wall and floor.
#2. Skimming and brushing
Use a net skimmer to remove any foreign bodies or debris you see at the top of the pool's water. Skim water daily to prevent debris from sinking to the bottom of your pool
.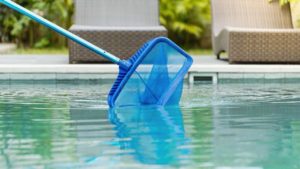 Once all the debris is removed, take a pool brush and run it over the sides of the pool, stairs, pool fence, ladders, and slides, etc. Make sure to brush weekly to remove dirt and detach algae before it can take a toll on growth. Keep in mind that areas with poor water circulation, such as stairs, may need more attention.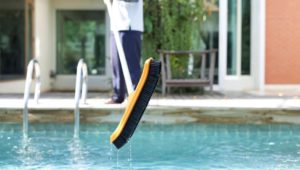 The various pool brushes you need to do your job properly are:
Stainless steel and nylon bristles brush to clean unpainted concrete.
Stainless steel brush to clean granite.
Nylon bristles brush to clean fiberglass, vinyl, or painted concrete.
Be sure to get into every nook and cranny possible and brush away any lurking algae formations.
#3. Vacuuming
Once you select the vacuum that matches your requirements, set a vacuum up for your pool. Make sure to follow the vacuum manufacturer's instructions for proper cleaning of your swimming pool. The chances of debris accumulation and bacteria growth are more at the bottom of a pool so make sure to vacuum your pool at least once a week to keep it clean and safe for use.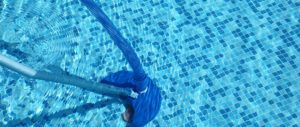 If you don't know how to use a vacuum pump, you can contact Life Saver Pool Fence for the maintenance and cleaning of your swimming pool.
#4. Keep the pump running
You need to keep the pump running long enough each day to ensure that the water is properly filtered. This will clear out unwanted bacteria and algae from the pool. Also, make sure to check your filters weekly because no matter how much you skim, brush, or vacuum, if your pool filter is dirty, your water is dirty.
If your pool doesn't get clear up in 4-5 days, it could be a sign of damage to your filtration system.
#5. Test pH and TDS level of water
According to the Centers for Disease Control and Prevention (CDC), "TDS levels of your pool should be below 2500 parts per million (ppm)." You need to partially or fully drain and refill your pool if the TDS levels are too high. Make sure that pH levels stay between 7.2 and 7.8. If the pH level is outside these range, either use a pH increaser or pH reducer to maintain the pH level.
You can use muriatic acid if the pH is above 7.6 and soda ash product if it's under 7.4. You can buy these products from any of the pool supply stores or home improvement stores. However, ensure to use it as per the instructions over the packaging. You can buy these products from any pool supply stores or home improvement stores. However, make sure to follow the instructions on the packaging.
Now that you know how to clean your swimming pool, you can make sure you have the right tools and chemicals on hand so your pool is always clean, ready, and waiting for you. However, if you don't have time to do it, you can always contact Life Saver Pool Fence for the maintenance of your swimming pool.