Do you know why Chlorine is added to the swimming pools?
It helps keep the water clean and disinfected. Also, it kills harmful bacteria and pathogens that can cause various waterborne diseases. It breaks down oils, lotions, and skin flakes, more commonly known as "bather waste." However, there are a few drawbacks too. It can dry out your skin and hair, cause red eyes, and can linger on your skin even after a shower. To avoid such a situations, it's best to use chlorine in the recommended amount.
The ideal value of chlorine for swimming pools
According to the guidelines set by the Association of Pool & Spa Professionals, the pH level of a swimming pool should be between 7.2 and 7.8, but to be certain, you should also check the health codes of the jurisdiction where you live.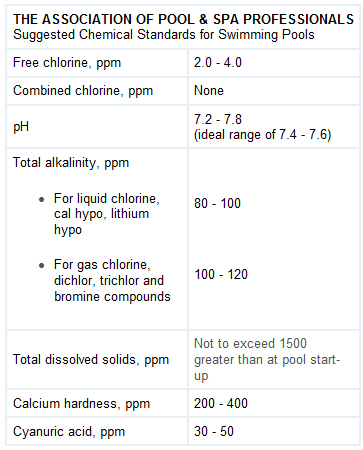 Risks of using a high amount of Chlorine in swimming pools
If you add too much Chlorine in the swimming pool, it can become a pit of harmful chemicals. The over-chlorinated pools can threaten you in two ways:
Causes skin irritation –Numerous studies report that Chlorine can be a skin irritant and can cause eczema, psoriasis, acne, and seborrhea. It can also cause severe itchiness and discomfort in your eyes and nose. Chlorinated water can damage polyunsaturated fatty acids and vitamin E in the body. It can also generate toxins that produce free radicals, cause skin irritation. You can avoid this issue by supplementing your body with essential fatty acids, some essential fatty acids, like flaxseed oil and vitamin E.
Health concerns –Chlorinated water can cause various health concerns. It can cause asthma in children who frequently swim in chlorinated pools. Some other concerns linked with chlorinated water are:
Breast cancer
Bladder cancer
Bowel difficulties
Malignant Melanoma
Symptoms of chlorine poisoning
Some of the tell-tale signs of chlorine poising that you should look out for are:
Sudden onset of nausea and vomiting
Burning sensation in the throat
Itchy eyes
Difficulty or shallow breathing
Skin redness
Dull chest pain
Most of the signs of mild to moderate chlorine poisoning will disappear within 24 hours without treatment. However, there is no guarantee that the day will pass without any discomfort.
Safety tips for swimmers
While the reported danger of Chlorine in swimming pools is scary, there are a few things you can do to keep you safe.
Don't over chlorinate your pool – Most people think that adding more Chlorine to the pool will probably keep them even safer. Don't be a fool. Chlorine is a strong chemical and adding it more than the required amount can be very risky. So ensure to stick to the recommended amount to reduce your chances of risking your health.
Limit your time in the water – This can be hard to do, especially if you're a professional swimmer and training for a meet or similar competition. However, limiting your timing in the water is worth considering in comparison to the health risks. And if your professional training requires you to spend much time in a pool, ensure to add required supplements in your diet.
Shop for an alternative – There are many alternatives to Chlorine available in the market. Visit your local pool shop to check out. You can also do a little research online to find out whether they're safe or not.
A basic thumb rule to use chlorine
As you're aware that overuse of chlorine in a swimming pool can lead to various health concerns, you must be looking forward to the right way to use chlorine. Follow these rules to use chlorine in the right way:
Store chemicals in a cool, dry, and shaded place.
Always read and follow the manufacturer's instructions before adding chlorine to the pool
Never mix chemicals together—add each to the pool separately.
Never mix different types of chlorine—add each to the pool separately.
Don't buy more pool chemicals than you'll use in a season – they lose effectiveness over time.
Make sure pool chemicals are inaccessible to children.
The bottom line: Chemically treated pools are safe to swim if you add Chlorine in a recommended amount. You also need to ensure that your pool is well maintained and ventilated. If you don't know how to manage your swimming pool, contact Life Saver Pool Fence today!