It's really important to install pool safety signs to keep everyone safe around the pool. General swimming pool rules signs allow swimmers to understand best practices to help keep themselves and others safer.
From water safety signs with generalized information to more specific signs to notify swimmers, these signs play a vital role to prevent accidents and injuries. Here are some of the safety signs that you must install around swimming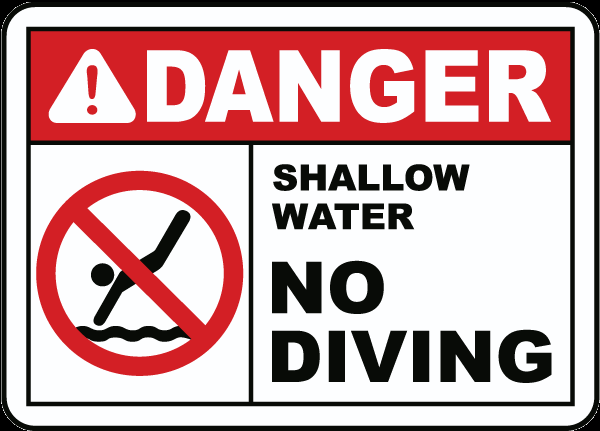 No Diving (In Shallow End)
 "One of every 10 injuries to the cervical spinal cord is caused by a diving accident." ~TRIAD Journal
Diving in water that is too shallow can lead to the catastrophic spinal cord injury, paralysis, or death. A diver can easily hit the bottom of the pool, causing immediate damage. These accidents are preventable by installing a No Diving (In Shallow End) safety sign to let people know about the shallow water. Take extra care to ensure that the signboard stays clear.
In a case of an emergency, sometimes swimmers might find it difficult to identify low-profile ladders or stairs. You can use contrasting paint or printed water safety sign to help swimmers to find their way out of the pool in a hurry.
First Aid Kit                                                                   
Every pool area should have a well-stocked, handy first aid kit that includes everything from bumps and scrapes to CPR. The first aid kit sign will help people know where to get it and give immediate treatment to the injured person.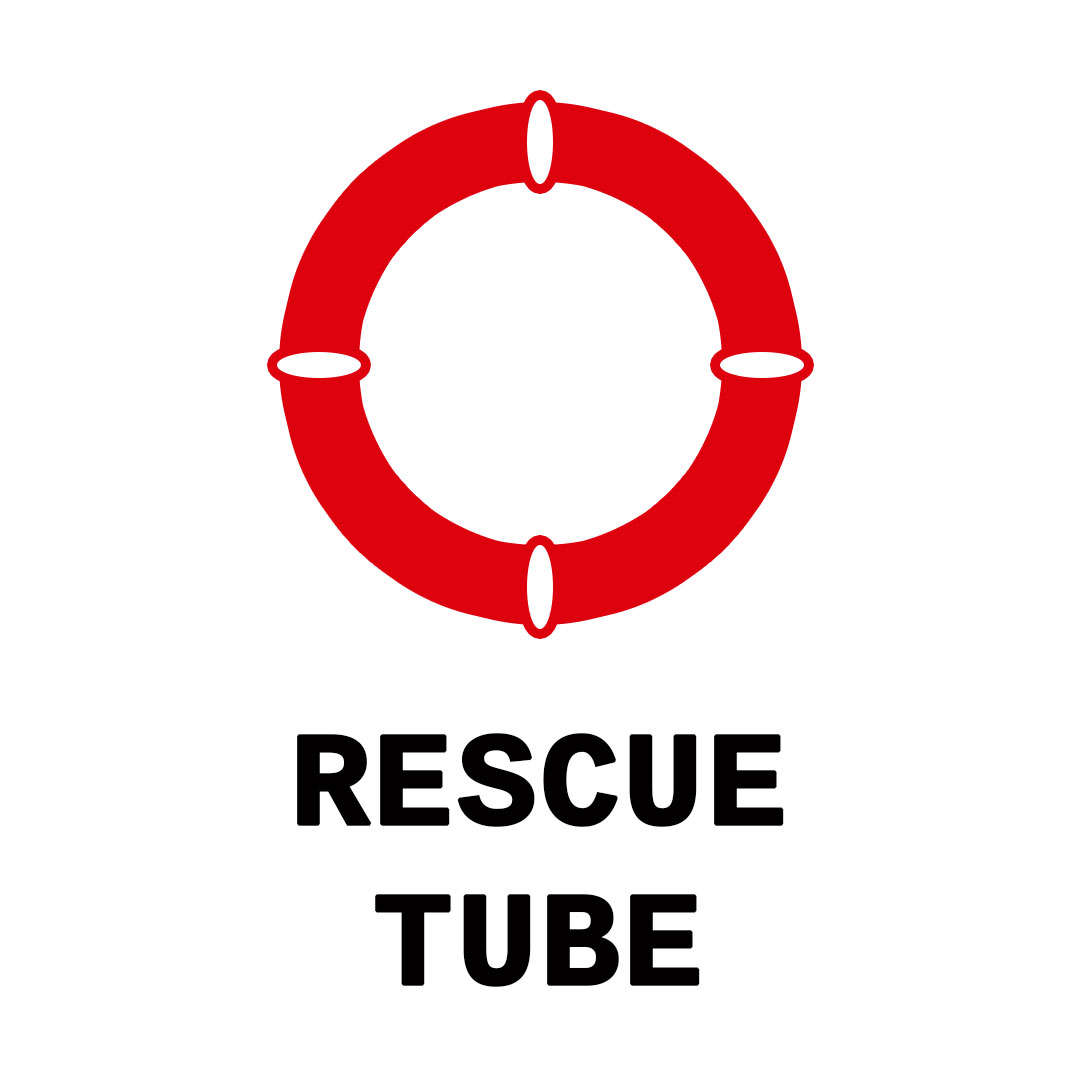 From flotation aids to grab bars, if a swimmer is in danger, other people around the pool need to know where they can find life-saving equipment that can help prevent drowning.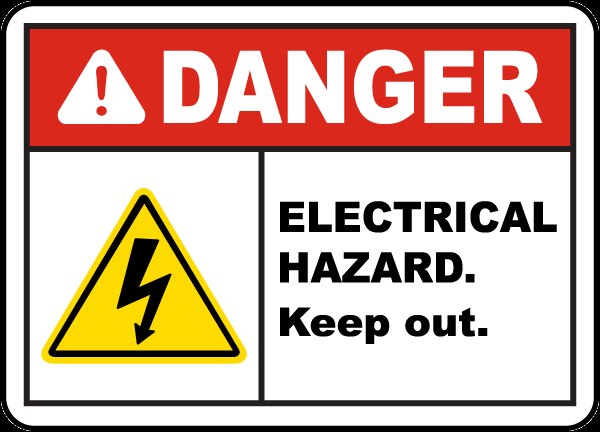 Open wires and electrical devices are risky around the swimming pool. If you have any electrical hazards around the pool, mark it clear with safety signs to aware people of the hazard. Moreover, make sure to get it fixed by pool fence professionals to avoid the risk of improper wiring and installation of components that can lead to electric shock.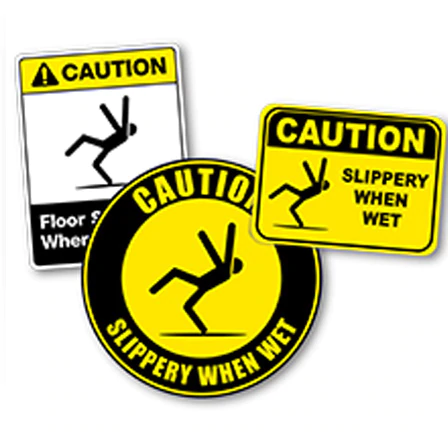 Sometimes, the area around the swimming pool gets slippery that can be the reason for slip and fall injuries around the swimming pool. The concrete floor becomes slick with water and algae can bloom on the surface of the deck, making the concrete floor slippery and dangerous. The concrete floor can cause lacerations or more severe injuries. Moreover, someone who injures himself before slipping into the pool is at immediate risk of drowning injury. Ensure to install a slippery sign board around pool to let users know about the slippery area and to reduce the chances of injuries.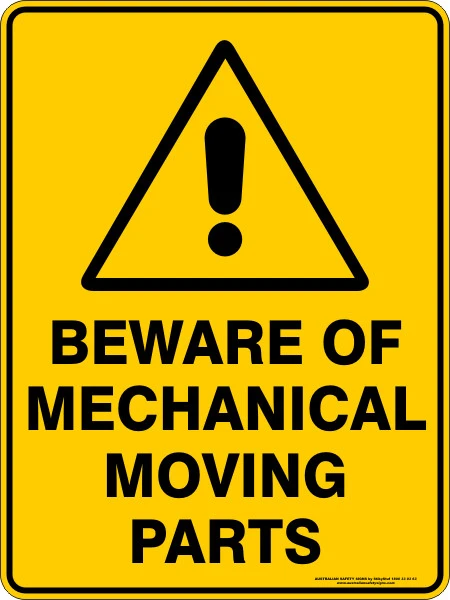 If you have installed an automatic pool cover motor or any other machinery near your pool, it's important to label it to avoid injuries that can occur by attempting to operate it incorrectly.
Pool Safety Cover Control/Shut-Off
Pool safety covers are important to install to keep kids and pets out of reach to the swimming pool. If you have an automatic pool safety cover, make sure to install the safety sign to let swimmers know the location of the control and safety shut-offs. This can reduce the risk of someone getting trapped under the water due to accidental activation of the pool cover controller.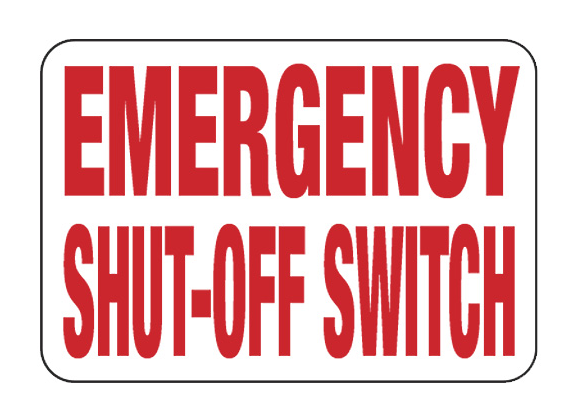 These days, pools are built with anti-entrapment drain covers to reduce the risk of accidents or injuries. However, you still need to mark the location of your pump's control and/or shut-off with a pool safety sign. This sign helps users to shut off the pump immediately if someone's body, suit, or equipment gets trapped by the suction of the pump.
If your pool has a slide, ramp, fountain, or other additional feature, add a water safety sign to inform users of its control location. This not only increases safety but fun, as responsible, experienced swimmers can help you monitor and activate these features as needed.
Pool safety signs help make safety a priority in your swimming fun. As safety around the swimming pool is the highest priority, don't forget to install Life Saver's pool fence around your swimming pool. Your children and family members deserve the strongest, safest swimming pool fence in production. Life Saver's child pool safety fence will stand up to both the toughest conditions and the test of time.
If you have any questions about creating a safer pool area with removable safety pool fences or safety pool covers, contact Life Saver's pool fence experts today.